Post-Secondary
Post-Secondary Planning Information
Timeline
October 1- January 31 application; self report marks for courses in progress and courses to be taken in the second semester; Apply before December 1 to be considered for university entrance scholarships.
Send a transcript upon application completion; Indicate courses in progress and courses that you are taking in the second semster.
October- November apply for national scholarships.
February and July Send transcripts using MYPASS.
Check your email weekly for updates from the university; Accept offer; Decline other offers.
In April and May attend course selection workshops or open houses.
Apply for residence or secure housing
Apply before Dec.1 for start dates the following Sept.
Other schools will have their own web sites.
Fees vary so have a credit card available and your Alberta Student Number (ASN) found on all report cards. Good luck!  
Ontario schools may need the Alberta Education course codes
Links & Resources
Lakehead University
Nursing Average is a 70% min (4 yr BScN) and 80% min overall (3 yr Compressed BScN)
Engineering Average is 70% min overall
Are Alberta students eligible for our Entrance Scholarship and $800 Travel Bursary? Yes definitely!
Lakehead campuses in Thunder Bay, Orillia and Barrie ON!  
University of Alberta
Wednesday, December 8th from 6-7pm. 
Here is the Demio link I will use to facilitate the presentation that you can share with students and their families: https://my.demio.com/ref/LdCT9Ih7Er9NYQkDThe presentation is 20-25 minutes long and we will follow it with a Q & A where students can ask their questions in the chat. Grades 10, 11, and 12 are all welcome to attend. 
When they click on the above link, students will be required to "register" with their name and email which will link them to the presentation room. No password required. They can do this registration ahead of time or at the time of presentation.
St. Mary's University
Saint Mary's University of Halifax will be hosting an online information session aimed at Alberta students on Tuesday November 30th, at 5pm Mountain time.
We will be going over academic programs, student life and supports, as well as admissions and scholarship requirements here at Saint Mary's as well as setting time aside at the end of the session to answer any specific questions students or parents might have.
If any of your students are interested in attending, they are able to find the registration link here.
If you are able to make any interested students aware of this presentation I would greatly appreciate it, we will be providing a waiver code to student's so that they are able to apply to the university for free, and if any are unable to make it they can reach out to me directly at Jordan.hamilton@smu.ca to ask any questions or get the waiver code. 
We are also hosting a virtual open house for prospective students on Saturday, December 4th from 9am-11am MT, if students are interested in hearing from our faculty deans as well as sitting in on mini lectures from some of Saint Mary's talented faculty members.

Over the next month, we will be in your community hosting our Parent Student information sessions. 

Register and take advantage of our free on the spot admissions that evening – bring a copy of your transcript and receive an admission decision right then and there. We hope to see you there and look forward to bringing Acadia to you.
 
Join us with your family to have all of your questions answered on our programs, scholarships, residence, how to apply and student life and to learn why Acadia is "Like Nowhere Else".

 

Where: Calgary - Delta Hotels by Marriott Calgary South
When: Wednesday, November 24, 2021 at 7:00pm
Register for Calgary

Where: Edmonton - Delta Hotels by Marriott Edmonton Centre Suites
When: Thursday, November 25, 2021 at 7:00pm
Register for Edmonton

 

If these dates and locations do not suit your schedule, please reach out and I would be happy to set up a one-on-one discussion at a time that is more convenient for you.
Shay Grover, BSc/MSS
(He/Him/His)
Enrolment Advisor
Office of Enrolment Services
Acadia University
Wolfville, Nova Scotia Canada B4P 2R6

t. (902) 585-1128
w. https://www2.acadiau.ca/future-students.html
University of Toronto
A friendly reminder that our recommended application deadline for students outside of Ontario is coming up on November 7. If you have students considering the University of Toronto for Fall 2022, we hope you can encourage them to submit their application by or before November 7. This will ensure they will be considered in all of our admission rounds.Students can find details about the application here.
Next Steps in the Application Process
Join us on Wednesday, November 10, at 1:00 PM (EST) as we share details on the next steps in the application process. During this session, you will learn about updates to the application process, gain valuable insight on how applications are considered, and find out what students can expect after they submit an application. There will also be plenty of opportunities to interact with our team and ask questions.

Register for our Next Steps in the Application Process Counsellor Update.
Ryerson University in Downtown Toronto
Please check out a public webinar for students in Alberta to hear about Ryerson, studying in Toronto and our admissions requirements. The webinar is on Wednesday, November 10 at 6:30 p.m. MT. If any of your students want to register, they can do so at our registration link: https://ryerson.zoom.us/webinar/register/WN_A7K2IUnTR5K2g8Dvaz0vBg
We're one month closer to the early admissions deadline! Here are your October updates.
Application deadlines
Please note that UBC's two application deadlines are as follows:

December 1, 2021: Students seeking first-round offers or major entrance scholarships 
January 15, 2022: Final application deadline
Bookmark our Admissions Blog to keep up to date on application tips, event notices, and more!
Planning a UBC degree
Deciding what to study at UBC is a vital part of your students' future. When applying to UBC, they will be prompted to select a degree and campus. Knowing which program they're interested in now can be helpful for planning, but it's not necessary to decide before completing their application, as your students can wait until after their first year to choose how they will specialize. Your students can use our worksheets to help decide on their degree and make sure they fulfil the degree-specific requirements.
When they're ready to apply, the UBC application is now open.
Your Degree at UBC events
Your Degree at UBC is one of our premiere fall events. This unique session gives your students the opportunity to figure out whether UBC might be the right fit. There will be program-specific presentations which allow students to interact with UBC staff, faculty and current students as they explore the variety of programs offered across both campuses.
Major entrance scholarships
The Presidential Scholars Award program recognizes exceptional students for their academic and non-academic achievements with awards of up to $80,000. Students who would like to be considered for this award should apply by December 1, 2021 and indicate their interest on the UBC application.
The UBC Centennial Scholars Entrance Award improves access to post-secondary education for exceptional students who face significant financial barriers with awards of up to $80,000. Applicants must submit an application to UBC undergraduate program by December 1. A separate application is required for this award which will be open until December 1, 2021.
UBC's new award program - the Beyond Tomorrow Scholars Award - supports Black Canadian students applying to both campuses. There are a number of award categories based on student need. Some are one-time and some are renewable up to $80,000. In addition to the financial assistance, scholars will be supported with a range of programming dedicated to student success. To be eligible for this award students should apply to UBC and submit the separate application for this award by December 1, 2021.
A number of awards are designated specifically for Indigenous students. Applicants can self-identify as Indigenous in their online application to UBC.
Live online campus tours
The best way for you and your students to find out if UBC is the right place for them is to join us for a live online campus tour. You'll be in excellent hands as you meet our friendly student ambassadors via Zoom for an in-depth look at UBC. Tours of the Okanagan campus last for 75 minutes, and the Vancouver campus tours run for 90 minutes. Both finish with a Q&A panel where you can ask your questions to current UBC students.
To view all upcoming campus tours and to register, visit our Tours and events page and select the campus tours tab.
Discover UBC's Okanagan Campus
We are hosting Discover UBC's Okanagan Campus on November 4. The session will illustrate what makes our Okanagan campus unique and will showcase degree options and student life. During this presentation current students will share their stories and advisors will walk participants through the application and admission process.
While forestry education has been offered at UBC for 100 years, the Faculty of Forestry continues to be at the leading edge of innovation. The Faculty is ranked #2 in Canada for research and #7 in the world for impact.
Any student interested in sustainability, climate change, environmental science, managing eco systems, or social responsibility might see the Faculty of Forestry at our Vancouver campus as a good fit. 
Land One is a first-year option within Forestry where students can explore complex issues related to food security, climate change, sustainability and their use of land through a coordinated curriculum.  There are also interesting study options like field schools, studying at Haida Gwaii, global exchange programs and more.
If any of your students are interested in forestry, they may reach out to us with questions at any time.
We realize this school year comes with much change and uncertainty, and that this has created even more demands for guidance teams to manage.  
 With this in mind, for the upcoming recruitment season, we are able to offer a variety of options for your students and their families to learn about, and connect with King's that respect both your time, and the constraints COVID has created:   
We will be offering a series of virtual evening sessions that students can register for in advance. Students can refer to our Future Students website for further information.
To support course curriculum, we offer opportunities to partner with King's for virtual class visits or virtual lectures by our faculty.  
 In the meantime you may wish to view King's Viewbook for September 2022 and the Out of Province Admission Requirements. Please let us know your interest in these options and potential times that may work for you. You can reach me by my email listed below. If you have already booked a liaison visit with King's, thank you for your continued partnership and we wish you all the best as we navigate this school year. 
UBC - Campus Tours
Campus Tours has most campuses in Canada  Check out Youtube. Make sure it is an offical clip
UBC: video link   
U of Waterloo: video link
Most university web sites now have virtual tours of their facilities.Click here for St. Francis Xavier,  You can also look at "Day in the Life of a Student"
Click here for Queens overseas
Click here for U of Regina Music program 
Click here for King's University journalism ( Halifax)
Click here for Marine Institute, Ryerson,  UBC, U of Waterloo.
Click here for the Toronto Film School Click here for Kelowna Centre for the Arts  You can also book tours on most web sites if you can visit a campus Click here  for SAIT Click here for UNB creative writing; Click here for U of A, Emily Carr, NSCAD, ACAD
Personal Profile Statements
UBC and Queens now require these short essays regarding the applicants non academic skills.  Applications are considered incomplete without them. Please answer thoroughly as students with high marks only my be rejected because of incomplete responses. Recently U of Waterloo and U of T may also require personal statements or video responses as part of the admissions process. Some schools are wanting to see digital resumes.  Check out Zeemee a self marketing site.
Studying in the USA
Most colleges and universities require a standardized writing score from SAT or ACT. Canadians have to write the Math/Science section and Reading Comprehension sections Each school sets their own range of scores that is acceptable. The Common Application allows a student to apply to 400 different schools. Indivdual schools may independently control their own enrolments so check the school of interest's web site.  Tuition varies widely from U$30,000- 80,000 /yr.  Please insure adequate medical insurance.
Deferring Admission
Some post secondary institutions allow deferred entry up to one year.  The student cannot attend any other post secondary institution.  Each institution sets their own policies regarding deferrals.  Please see the side bar for examples for U of Victoria and UBC.  Some other schools like U of Calgary do not accept deferrals.  Students have to reapply for the following year and may risk losing their acceptance if the GPA has increased for the desired field of study in the desired year of entry.
Private Schools
Many private schools provide innovative programs not offered at government sponsored universities and/ or their delivery methods of instruction may be different.
Since they are for profit institutions tuition is significantly higher than public sponsored schools.  Here are some samples
Aviation/ Heavy equipment
Mountainview Helicopters; IHE Heavy equipment operation ;Air Flight Steward;
Calgary
HAIR and Make up Schools
One Beauty Academy; Aveda  ;Artists Within  
Edmonton 
PixelblueA college of animation.media and technology
Vancouver area
Vancouver Film School     Quest University  One classs at a time   Trinity Western University Christian focussed;  WAS Mountain Adventure
Thinktank   3 D art/animation for Film and Games    
Lost Boys  animation    
 Kelowna Centre for the Arts and Technology animation, photography, studio, production, design, Web development;
Blanche Macdonald for Estectics, ,make up, Fashion, Design Hair
Recording Connection      
School Creative Photography, animation, screen writing  
Vada Studios acting intensives
All body Laser  tattoo removal
Toronto area
Max the Mutt animation  Randolph Academy (musical theatre-triple threat) Toronto Film School
Noize Faktory  Offcentredj
Quebec                                                   Singapore                                        Paris
Cirque Du Soliel school                          3dense Media School                  Paris College of Art
Taking a year off.
Consider some structure here are some sites
Rustic Pathways traveling and volunteering around the world
Study and Go abroad ; Working Abroad Magazine  ; MyGapYear
WWoofing ( working on oragnic farms)
Working in Israel Kibbutz
Students for Africa live and work in South Africa
Upcoming Post Secondary Opportunities
University of Saskatchewan October Newsletter

Reminder: Counsellors' info session and new materials

USask recruiters are excited to connect with British Columbia counsellors and advisors at our virtual information session on Fri. Oct. 15, at 11 am CST. Sessions have already taken place for counsellors in SK, MB and AB; if you missed out, we will be posting videos to our webpage asap.

Also, our Counsellors and Agents webpage has been updated with:
updated Advising Toolkit documents
USask viewbooks with the most up-to-date info about programs, on-campus housing, scholarships, tuition and more for the 2022-2023 academic year. We also have a Chinese translation available!
Sign up for USask's Open House!

Registration for our virtual Open House is now open. On Sat. Oct. 23, 1-4 pm (CST), you and your students will be able to explore academic programs and student experiences at USask through:
Live-streamed demonstrations and presentations
One-on-one chats with representatives from programs and services across USask
Digital materials

Get your students into the fast lane!

Does the application process feel overwhelming to your students? Or are they not sure which program to apply for? Check out our

Our webinars are for students interested in applying for undergraduate programs in the Colleges of Agriculture and Bioresources, Arts and Science, Education, Engineering and the Edwards School of Business for the 2022-2023 academic year.

If eligible, students who submit their application at our USASK EXPRESS event AND provide all the required documents such as transcripts, could receive a decision about their admission within one week.

Questions about USASK EXPRESS? Please contact Shiney Choudhary, USask Student Recruitment Officer at shiney.choudhary@usask.ca.
 
---
Métis, First Nations and Inuit students are invited to join us for a USASK EXPRESS application workshop tailored for Indigenous students on Wed. Nov. 10, from 1-3 pm CST.
Application fees will be waived for participating eligible Indigenous students who submit their direct-entry college application during this event. Applicants who submit all required documents and meet the admission requirements could receive a decision within one week!
Questions about USASK EXPRESS for Indigenous students? Please contact Cody Bugler, USask Indigenous Student Liaison Officer at cody.bugler@usask.ca.
Event highlight: USASKSparksWe are among a handful of Canadian universities offering an exclusive usask sparks for high school students. In a webinar format they explore

We are among a handful of Canadian universities offering exclusive USASKSparks events to high school students. In a webinar format, students will explore the many inspiring pathways to their future careers. As part of our webinar on Tue. Oct. 12, 1-2 pm CST, students will:
Interact with SparkPath "challenge cards," and choose the top 3 real-world problems they'd like to solve
Learn about USask degrees tackling those challenges
Start planning for their careers early
Think locally and globally
Print-on-demand poster
Check out the Edwards School of Business virtual tour

Are you interested in seeing what it's like at the Edwards School of Business? Curious about what it looks like inside? Check out our newly renovated classrooms and state-of-the-art financial lab. Take the virtual tour right now and experience all that Edwards has to offer.

If you have questions about Edwards School of Business or one of our undergraduate programs, chat with an advisor, current student or alumni on our website.
What is Engineering?
We've made some big changes to first-year engineering at USask. It's been RE-ENGINEERED for student success, wellness and learning. On Tue. Nov. 9, 6-8 pm (CST), students are invited to come to What is Engineering? and learn more about the college and life as a USask Engineering student.
Students can tune in for the live stream of our event and:
Learn about our new first-year program and their USask engineering degree
Meet professors
Tour the engineering building with us
Discover what they will learn in engineering
Learn about the co-op student experience to get paid while in school
Ask questions about engineering at USask
Have your students register today!
Simon Fraser University online events in October
Greetings from Vancouver!
As fall season continues, so do we offering opportunities to students and families interested in exploring post-secondary education options out of province.
We will be offering two online info-sessions for AB students in October, providing key information they need about living in BC and what they need to know to apply to SFU.
Please share these online event opportunities with your students!
NEW THIS OCTOBER!
EVENTS FOR PROSPECTIVE STUDENTS: DISCOVER SFU FOR ALBERTA HIGH SCHOOL AND INDIGENOUS STUDENTS
We are thrilled to have Indigenous students joining our next online info-session on Monday, October 18.
My colleague Rebecca Sangwais, the Indigenous Student Recruitment Coordinator at SFU, will be joining me to talk about support services and opportunities available to Indigenous students here at SFU.
The session will cover both, general admission to SFU and Indigenous students pathway options to SFU.
This event is open to all high school and Indigenous high school students in Alberta.
October 18 (Monday) at 6pm MT - To register visit Discover SFU - for Alberta High School and Indigenous students  (Presentation and Live Q&A session)
EVENTS FOR PROSPECTIVE STUDENTS: DISCOVER SFU FOR ALBERTA HIGH SCHOOL STUDENTS
Learn about SFU programs, admission requirements, scholarships and all you need to know to apply to SFU! Bring your questions. We look forward to connecting with you. 
October 23 (Saturday) at 10am MT: To register visit Discover SFU - for Alberta High School students (Presentation and Live Q&A session)
Students can also book an admission advising meeting with me: Book a one-on-one with Silvia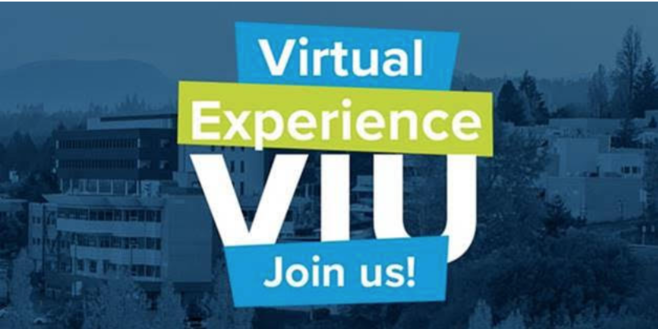 Experience VIU is happening virtually on October 2 from 9:00 am to 2:00 pm.
Parksville/Qualicum Beach Student Webinar – October 19 at 6:00 pm. Aimed at high school
students in Parksville and Qualicum Beach, but anyone is invited to join. Register here

Families of Future VIU Students Information Session – October 27 at 6:00 pm. Aimed at parents and guardians of first-year university students or high school students considering post-secondary.Register here

VIU Virtual Recruitment Sessions – Don't forget: Our 2021/2022 virtual information sessions have been scheduled and are open for registration. Check them all out
here.

Science and Technology at VIU – Mark your calendars for this virtual event happening
November 3 from 7:00 to 8:00 pm. More details to come!

Applications open October 1st. VIU is now accepting applications for September 2022. Benefits to applying early may include: early transcript review, entry into programs that accept qualified applicants on a first-come first-serve basis (e.g. Forestry and many Trades Programs), access to educational advising, individual academic planning, and backup plan creation. Backup plans are an important consideration that may allow students to still attend VIU (and work towards their intended educational goal) in September 2022, even if they are not a successful applicant in their first choice limited-entry program (ie: Criminology, Kinesiology, Nursing, etc).Click here for more information on VIU's Areas of Study or to Start your Application. 
We invite you to connect with a Recruiter to learn more about VIU.
We are able to connect through a variety of communication options including email, phone, video chat or in person.
Virtual Open House — Oct 27
Come in and explore all that SAIT has to offer at our virtual Open House on Wednesday, Oct. 27, 9 am – 8 pm. SAIT is empowering students to learn better and wants to set you up for success beyond our front doors. Take your first step forward at our virtual Open House.
Information Sessions 
Get all the details you need to take your next step – attend our information sessions. Our expert staff and faculty are ready to answer your questions and provide info on: 
What sets SAIT apart 
An introduction to the program and area of study 
Admission requirements 
Future career paths  
Information on the earning potential and graduate employment rates 
Info sessions >>
SAIT 2022 Viewbook 
Hot off the press! Our viewbook is now available and this year it's better than ever with an augmented reality experience built right in. Get your order in and we'll deliver them to your school – each box has 50-60 copies. We also have a digital version you can check out right now! 

Viewbook >>

Good morning from Vancouver!
Fall season has started and students and their families are now looking for post-secondary education options for next year.
We here at SFU are offering many ways for your students to get the information they need about living in BC and what they need to know to apply to SFU.
This is a reminder that SFU is still running online info-sessions for students from Alberta this week – today, Wednesday and this Saturday (Sept.25). Please share these online event opportunities with your students:
EVENTS FOR PROSPECTIVE STUDENTS - DISCOVER SFU (FOR ALBERTA HIGH SCHOOL APPLICANTS)
Learn about SFU programs, admission requirements, scholarships and all you need to know to apply to SFU! Bring your questions. We look forward to connecting with you. 
September 22 (Wed) and 25 (Saturday): To register visit Discover SFU - for Alberta High School applicants  (Presentation and Live Q&A session)
Students can also book an admission advising meeting with me: Book a one-on-one with Silvia 
Thank you for all your support and feel to connect with me if you have any questions.
Have a great day!
SILVIA PAIAS COSTA
Student Recruitment Coordinator | Student Recruitment & Admissions
Simon Fraser University | MBC 3000 | P: 778.782.8500
8888 University Dr., Burnaby, B.C. V5A 1S6


SFU Admissions
SFU Virtual Campus Tour