Back to all posts
Posted on
CCHS This Week May 16 - May 20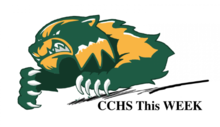 Academics, Artistry, Athletics, Attitude
May 16 -  May 20

(For archived Newsletters please click here)
PLEASE READ:
Check out our Daily School Announcements here.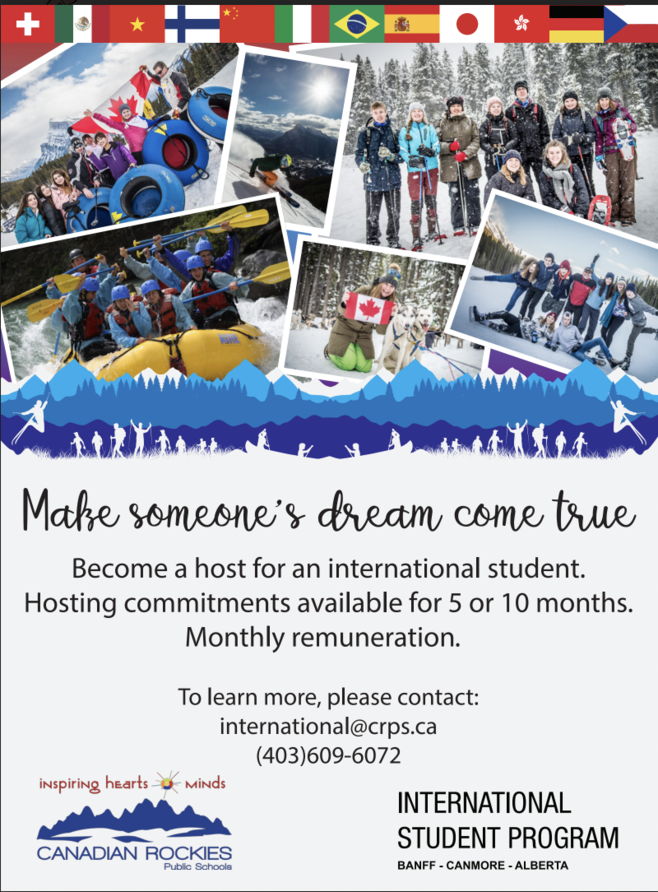 Become a Host Family for CRPS International Students in 2022-23! CRPS is looking for Canmore & Banff families to host our next incredible cohort of 50 international students arriving in August 2022! Make meaningful connections, share your different cultures, learn a new language, build life-long memories & friendships! Commitments of  5 months and 10 months are available, with monthly remuneration provided. For more information and to apply, contact international@crps.ca or 403.609.6072
Provincial Achievement Tests Exams
On Monday May 16, all grade 9 students will have their ELA Part A PATs. Students will go to their option classes at 8:19 am for attendance. At about 8:40 am, staff will direct students to their exam room. 

Students will be in the exam from 9:00 am until (minimum) 10:00 am. Once they have finished their test they will go to their B block class. Once they complete their exam, students are to go directly to their regularly scheduled class.
Graduating students wishing to be considered for the role of CCHS Valedictorian at the 2022 Commencement Ceremony must: 
Valedictorian for the Class of 2022
Grade 12s - please apply to be the Valedictorian for your graduating class of 2022. To date we only have 2 applications. Please complete this application and submit it directly to Mr. Rogers no later than 3:30 pm on May 26, 2022.
May Long Weekend / Symposium
On Friday May 20, school will be closed for teacher professional development.  Staff will be working on looking at our divisional and provincial goals to begin planning for the upcoming 2022/23 school year.  Please note that there is also no school for students on Monday May 23 for the Victoria Day Long weekend.  We hope CCHS students and families enjoy a safe and relaxing May long weekend.
CCHS Scholarship Opportunities for 2022-2023 
As we near the end of our school year , our grade 12s should now be looking toward post secondary in the Fall. Please click on the provided link (Link is here) to apply for upcoming scholarships and bursaries. NOTE - some applications are due the end of this month - May 2022. We will send an updated version of the Awards list again in September and when you get this message in September it's important you fill out the "2021-2022 Academic Awards Application" form and return it to the CCHS. This form lets us know where our grads are in September plus has a spot for the volunteering work they've done (are doing) -- this helps us with many awards that are picked by staff.
Grad Class of 2022 
Visit the Grad section of the school website to keep up to date on important timely information.
Ongoing
The Canmore Bottle Depot are kindly supporting the Grad Class of 2022 by setting up an account. You can drop off your bottles (any fundable recyclables) at the Canmore Bottle Depot for the CCHS Grad 2022 account.
The grad class thanks all those who are willing to support this fundraising effort.
Please note Changes to ROAM transit effective April 4 for students at CCHS.
Please click here to learn more.
The Week Ahead
Monday, May 16, 2022
Grab and Go Breakfast – In the Cafeteria 8:00am – 8:15 am. Start up your day with a healthy breakfast. Also Grab a snack for class.
8:30 - 11:00 - Grade 9 Provincial Achievement Tests Part A
Reminder our Cafeteria is now open daily for Lunch. We have Tap pay.
Tuesday,May 17, 2022
CCHS Girls Rugby ( Mr. McQueen's Team) 3:30 - 5:00 pm 
Track & Field Mini Thini @ 1pm
Mr. McQueen's Girls Rugby Practice 3:30pm
5:00pm  Sr. Boys Rugby Practice @ BCHS 
7 pm  Sr. Girls Rugby Practice @ BCHS
CCHS School Council Virtual Meeting @ 7pm (Agenda) (Virtual Link)
Wednesday,May 18, 2022
Wolvergreens – Meeting @ Lunch Mme. Suffield (all welcome) In Person
Student Council - Meeting @ Lunch Mr. Skinner (all welcome) In Person
Thursday,May 19,2022
Track & Field Practice -  3:30pm
5:30 pm - Girls Rugby Practice @BCHS
Friday May 20, 2022 
May Symposium - Staff PD - NO SCHOOL for students
Some Key Dates you do not want to miss.
Monday May 23 - Victoria Day - No School for students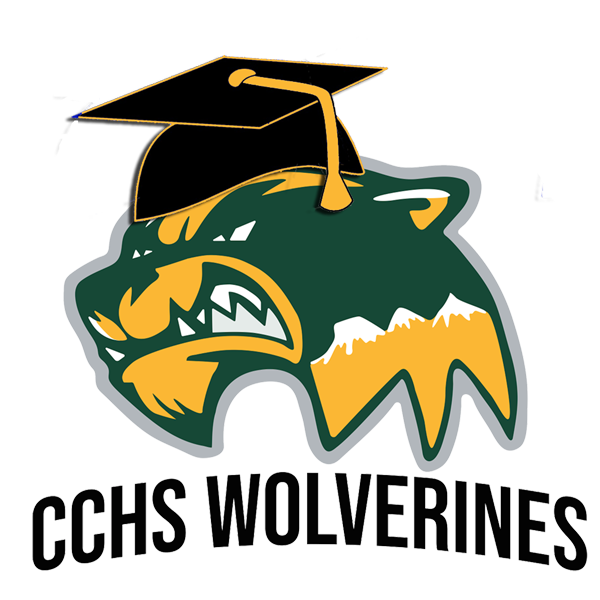 Home Work Support Room
We have now restarted our Homework Support Room for our Grade 9 and 10 students. As it has been a while since we have had this opportunity for students, please read the rationale for this program below.
Completion of classroom assigned work is crucial to a student's academic success. A zero given on an assignment because work is not completed is not a true assessment of student learning. To ensure true assessment of student learning, we believe it is important for students to complete classroom assigned work. To assist students in establishing successful study practices and understand the importance to their learning in completing assigned work, we will work with our Grade 9 & 10 students to help them complete missing assignments. Grade 9 &10 students who are not completing assigned work will be asked by their teacher to attend a homework support room during lunch time to do any missing work. During this time, students will be given help in study skills and in completing the missed learning tasks. A failure to attend these study sessions will result in administrative contact with parents to pursue options to help the student successfully complete their work.
School Fees
Canmore Collegiate High School fees are now available on PowerSchool Parent Portal. Debit or credit card payments can be made online through your Parent Portal
https://powerschool.crps.ca/public/. As per Canadian Rockies School Division's Administrative Procedure 503, payment for school fees is due 30 days after invoicing. Please contact Sarah Mckay (sarah.mckay@crps.ca) to make payment arrangements if unable to pay within 30 days or if you have any questions.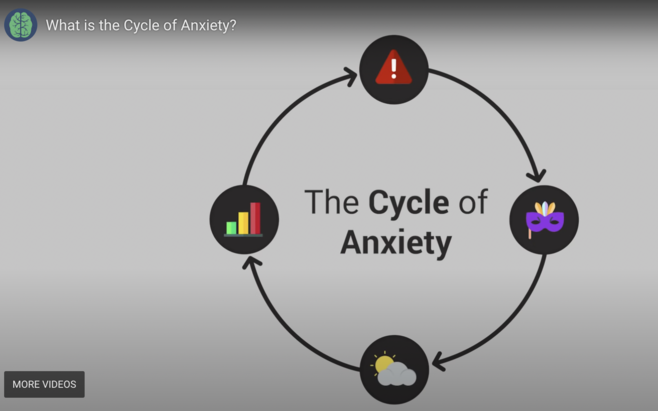 Learn more about the cycle of anxiety by following the link below.
https://www.youtube.com/watch?v=-CAd9o9OlqM
Other Information
Help to support a displaced Ukraine family
A family of 5 recently arrived from the crisis in the Ukraine.  We are forwarding this information to our school community, in the event any of you may be able to assist with the list of needs identified for this family.   
A reminder that for more information and drop-off locations, please contact Donna Potter, President of the Rotary Club of Canmore at 403-493-4056 or email   potted4@gmail.com
Still require 4 helmets, 3 bike locks and 5 stands

   If anyone would like to donate to these needs via Canadian Tire gift cards of any amount, please contact (403-493-0605)

The 2 very large needs/concerns are for a place to rent and an affordable used 8 passenger van to purchase.  Some leads have been
received.  If anyone has any further leads in this area, you may reach out by text or phone to Vern or Idel at 403-493-0605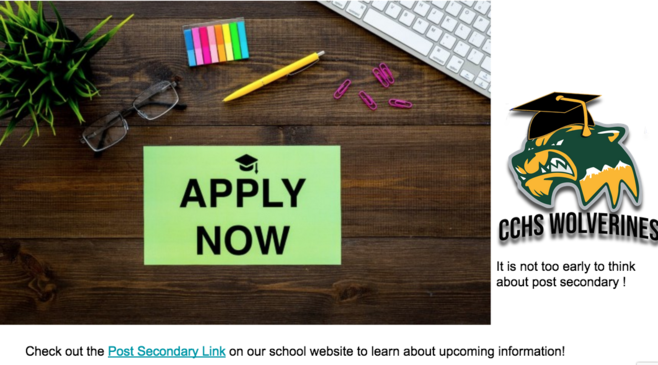 Student Attendance
A reminder that if your student will be late for class or leaving class early, please Call the attendance line at 403-678- 6192 ext 1 .
Leaving class early:
If your student must leave school early for the day or for part of the day, for an appointment, please notify the school. Students must sign in and out of the office if they are leaving school or returning after an appointment ( note this in not required during lunch hour).
Extra Curricular News 
As a school we are working hard to balance the requirement to keep our students safe with social distancing, good hand hygiene and masking, with extra curricular initiatives.  We do ask that students who are not directly working with teachers or involved in an extracurricular activity leave school at 3:30 so that we can properly clean our spaces. 

Please ensure you can logon to Parent Portal. Look for the PowerSchool button on our school webpage or click here. This is where you will access daily updates on your student's marks and attendance, school fees and more. Final term report cards are also shared with you through Parent Portal and are not mailed out from the school.
** Alberta Education has now made student access to their official transcript of marks available to all grade 10- 12 student available through a myPass account (myPass.alberta.ca). Grade 10 marks will first appear after the first semester.
Upcoming 
Missing important happenings at CCHS? But are awash in emails? Find information through one of the medium listed below. Get connected become involved.

Follow us on Facebook (here)
Join us on Twitter for quick updates. @CCHS_Canmore 
Follow us on Instagram – cchs.canmore
Follow our YouTube channel for happenings at

CCHS

in 60-90 secs. – Collegiate Corner
Check out our Daily School Announcements here.
2020/2021 Student Handbook is here. Find important

CCHS

dates such as parent/teacher interviews, course change information, exams and much more.
Past Newsletters can be found here.
News
Bow Valley Settlement Services Information Newsletter now posted– Click Here
Follow the link to view the highlights and agendas for Public School Board Meetings.
 Electronic Smoking Devices: ‹Link Here