Back to all posts
Posted on
CCHS This Week November 27- December 01 , 2023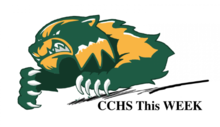 Academics, Artistry, Athletics, Attitude
November 27 - December 01 , 2023

(For archived Newsletters please click here)
Canmore Collegiate High School
Help Shape Your Child's Educational Journey
Canadian Rockies Public Schools (CRPS) is seeking parent feedback to refine its vision for the division's 2025 – 2029 Four Year Education Plan, which is being developed over the next 14 months. At this time, CRPS is asking parents to reflect and respond to two questions before November 28, 2023:
Can you share some thoughts on your child's current learning journey?
How do you feel about your level of involvement in your child's educational journey?   
Responses to these questions will be pivotal in developing effective educational strategies for CRPS' new plan. The valuable perspectives gathered also will contribute to discussions at the Board of Trustees' November 30 Council of Councils meeting, ensuring parent voices play a critical role in shaping the division's direction.
Grad Portrait Sittings - are now open.
Grad Photography Dates: November 24, 27, 28, 29 and 30th , 2023
Session Fee: $40. Includes  10-16 Poses/3-5 Backgrounds/1-2 Outfits 
***All Grads need to have their photo taken. If you are only doing a basic portrait (yearbook photo) you do not need to pay. Simply tell the photographer you are only doing a basic yearbook photo.
Lifetouch will  photograph a variety of full body/cropped images. 
The sessions will be 30 minutes, and we will do formal cap/gown photos as well as casual photos.  (ex. Jeans/Tshirt,  Sports uniform, etc) 
We suggest males bring a dress shirt and tie for formal photos and females wear v-neck or scoop neck top for formal photos. Unfortunately, we will not have shirts and ties for graduates to use.  
 
The use of props provided by Lifetouch (roses, diploma scroll) is voluntary, we have implemented safety protocols for sanitizing props or will provide one time use props for each sitting.   
Graduates may also bring appropriate props to be included in their sitting. (ex. football, musical instrument, etc)  
The website will in now officially open to book. Please find attached the grad flyer for your graduates and their families to sign up for the photos.  
The booking link is
https://prestigeportraits.ca
Please note, There is no 8-digit code, students/parents can search by
 Province and City. 
Bow Valley Elves have returned to CCHS... please collect a tag and return your gift to the CCHS office by DECEMBER 15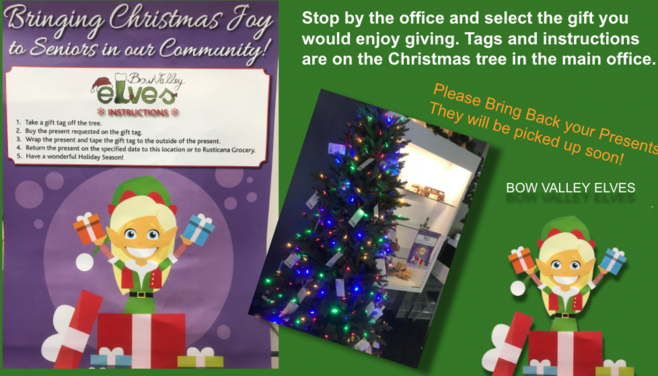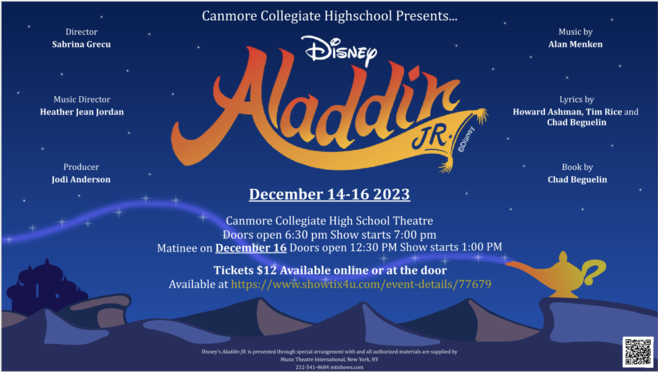 Aladdin Tickets on sale as of November 30 click here
Mypass
Just a reminder that Grade 10 - 12 students to set up their Mypass so they can access their school transcripts and tracking their high school credits. Here is a step by step guide for setting up MyPass
PLEASE READ:
Check out our Daily School Announcements here. Please check the announcements for up to date information on Team practice times.
The Week Ahead 
Monday, November 27 , 2023
Big Breakfast - come have a free breakfast in the cafeteria
Grad Portrait Sittings
Girl's Rugby - Conditioning Sessions 3:45pm - 4:45pm
Tuesday, November 28, 2023
Gender Sexuality Alliance (GSA) meeting in the Library - All welcome.
Jazz Band - new members welcome - Lunch Time in the Music Room
Grad Portrait Sittings
Wednesday,November 29, 2023
Student Council Rm 1210 @lunch  all students welcome
Grad Portrait Sittings
Thursday,November 30, 2023
Jazz Band - new members welcome - Lunch Time in the Music Room
Synbio Club meeting -lunch Mr. Symington's room -Rm 1001
Grad Portrait Sittings

Aladdin Tickets on sale as of November 30 click here
Friday, December 01 , 2024
Big Breakfast - come have a free breakfast in the cafeteria
Half Day Friday for Students - Blocks A/B
Last day for Grad Portrait Sittings - throughout the day
Upcoming Dates 
December 15th: Half day Friday
December 22nd: Schools close for winter break at 11.42pm
January 8th: Schools re-open for 2024
 News
Family Connections Centre - Town of Canmore
The Family Connections Centre provides free prevention & early intervention services and supports for families and children ages 0-18. To Learn more click here.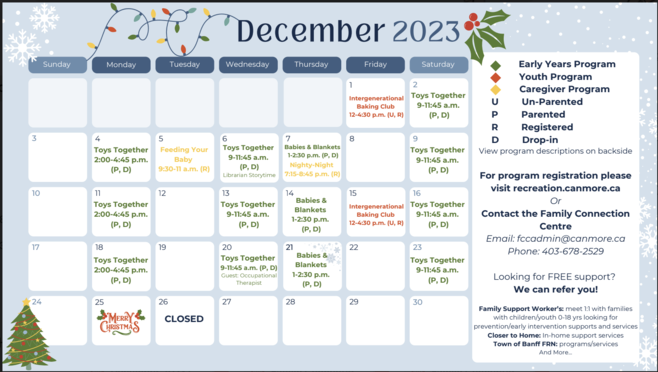 Registration is now live for Family Connection Centre (FCC) fall programs! All Family Connection Centre programs are 100% free of charge. To register for any of these programs, you can go through the Town of Canmore website via this link or email frnadmin@canmore.ca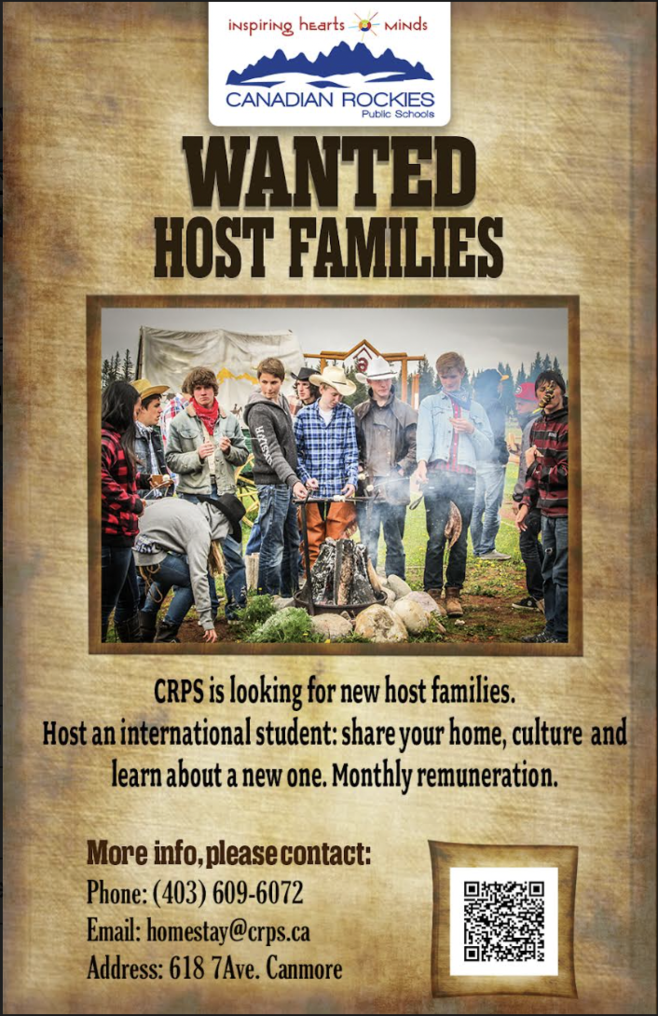 Follow this link to find out more!
Family Resource Network
The Bow Valley Family Resource Network is offering a variety of programming throughout the month of September for families with children ages 0-18. In addition to the Family Resource Network programming, the Family Connection Centre will be running drop in Social Connections programming. This programming is run through the Town of Canmore municipality. Please click here for Social Connections programming.
https://www.youtube.com/watch?v=-CAd9o9OlqM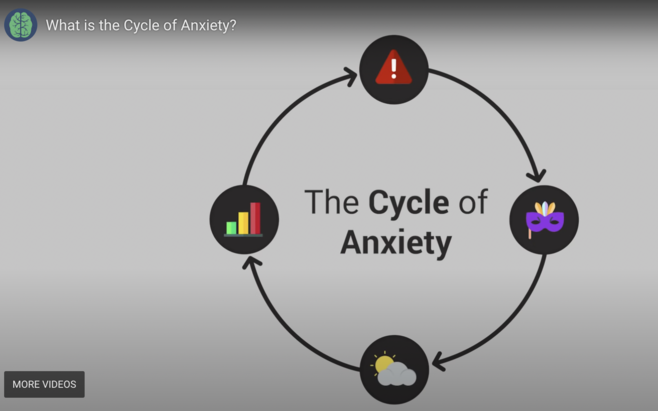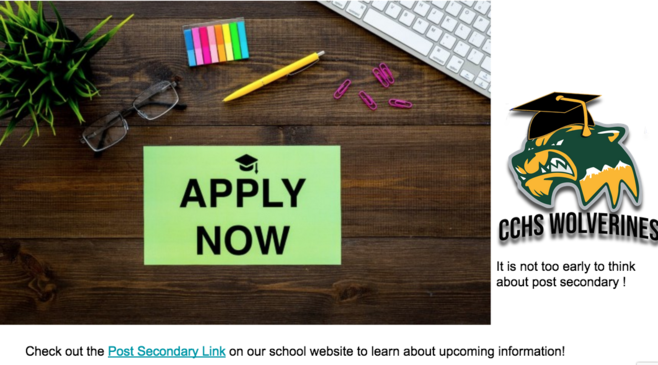 Student Attendance
A reminder that if your student will be late for class or leaving class early, please Call the attendance line at 403-678- 6192 ext 1 .
Leaving class early:
If your student must leave school early for the day or for part of the day, for an appointment, please notify the school. Students must sign in and out of the office if they are leaving school or returning after an appointment ( note this in not required during lunch hour).
Extra Curricular News 
As a school we are working hard to balance the requirement to keep our students safe with social distancing, good hand hygiene and masking, with extra curricular initiatives.  We do ask that students who are not directly working with teachers or involved in an extracurricular activity leave school at 3:30 so that we can properly clean our spaces. 

Please ensure you can logon to Parent Portal. Look for the PowerSchool button on our school webpage or click here. This is where you will access daily updates on your student's marks and attendance, school fees and more. Final term report cards are also shared with you through Parent Portal and are not mailed out from the school.
** Alberta Education has now made student access to their official transcript of marks available to all grade 10- 12 student available through a myPass account (myPass.alberta.ca). Grade 10 marks will first appear after the first semester.
Upcoming
Missing important happenings at CCHS? But are awash in emails? Find information through one of the medium listed below. Get connected become involved.
school website calendar.
Follow us on Facebook (here) 
Join us on Twitter for quick updates. @CCHS_Canmore 
Follow us on Instagram – cchs.canmore
Follow our YouTube channel for happenings at

CCHS

in 60-90 secs. – Collegiate Corner-
Check out our Daily School Announcements here.-
2023/2024 Student Handbook is here. Find important

CCHS

dates such as parent/teacher interviews, course change information, exams and much more.
Past Newsletters can be found here.